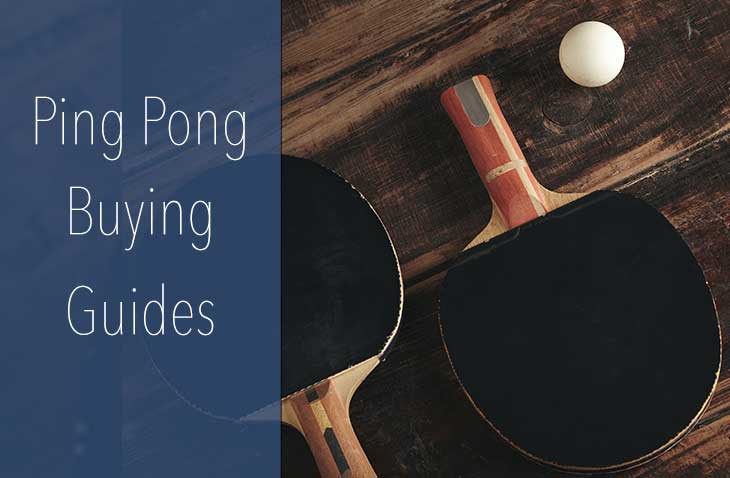 Which of These 6 are the Best Outdoor Ping Pong Table
Last modified: July 21, 2021
Are you looking for the best outdoor ping pong table to improve your game or enjoy a friendly family game at the weekends? There are lots of options for you to consider and you might be confused about which is the best for you.
Choosing your Outdoor Ping Pong Table
Looking at each ping pong table for sale is a long and exhaustive process. You want to find one that is best for you. There are a few things that you want to look for. You might want an outdoor ping pong table that is foldable or can be stored easily when not in use.
If you're keeping your table outside, you should ensure that it is weatherproof, or you should get a table tennis table cover. Finally, you will want to make sure that the outdoor ping pong table that you choose is of the right dimensions. If you practice on one that isn't the right size, you can harm your gameplay if you compete.
Another option however is to have a smaller game table that you can use while traveling. For instance, if you do a lot of camping or traveling in your RV, a small table might be better for you.
So what are the 10 best outdoor ping pong tables? Here are our suggestions for ones that you should consider.
STIGA Advantage Professional Table Tennis Tables
This competition-ready ping pong table is perfect for the home or office. With a 10-minute QuickPlay design, you can bring it out of storage with 95% assembly already done for you for a quick and easy setup. The two table halves can be rolled out for transportation of the table with ease and the size allows for convenient storage and setup.
The design of the table looks professional with a 5/8th inch thick tabletop that has a multiple roller coat finish with a finish silk-screen striping.
The ping pong table has an easy attach and remove net that comes with a 72 inch clamp-style net with posts. This net is tournament grade, so is easy for you to use in home competitions.
STIGA Advantage Professional Table Tennis Tables Highlights:
Easy to store in most home and office spaces for convenience.
Remove from storage and start playing in just a few minutes.
Tournament grade table and netting.
Aesthetically pleasing finish.
Ubon Small Ping Pong Table Assembled Portable Table Tennis Table with Detachable Net
The Ubon ping pong table is one of the best options when it comes to a portable, outdoor table that is perfect for ping pong enthusiasts who want to play on holiday. The table comes with an easy setup guarantee. There is no assembly required, all you have to do is to unfold the table and legs and you're ready to play.
The table is just under 30 inches long and 30 includes wide when folded. This means it can be easily carried by just one person with the carrying handle that comes attached. The table is also made out of premium materials and is 12mm thick. There are multiple roller coats applied to the table to create a smooth, level playing surface.
In addition, this table is perfect for those that are moving about as it can serve as a poker table, used to host board games and even a dining table.
Ubon Small Ping Pong Table Highlights:
Comes with two rackets/bats and three balls.
Instant setup, all you need to do is unfold it.
Easy to carry around, perfect for taking on holiday.
Can be used for other activities as well.
JOOLA Midsize Compact Table Tennis Table
Joola has been an Olympic table tennis brand for more than 60 years. It has been the proud sponsor of the biggest tournaments in the world. This includes the Olympics, World Championships and US Open. This table designed by them is a multi-purpose table that can be used as a poker table, board games or other uses within your home or out and about.
The table has a 100% pre-assembled format that allows you to set it up with ease. There are two halves to this book that have foldable legs that make it easy to store away should you need to.
The table is standard height but has a smaller surface space. Therefore, this is a great indoor or outdoor ping pong table for sale if you're looking for one that can fit in a compact space. The table can be stored in closets or even under a bed.
JOOLA Midsize Compact Table Tennis Table Highlights:
Is completely compact, so can fit into smaller spaces.
Great for indoor and outdoor use.
High-quality materials.
100% pre-assembled, so you don't need to build the table.
Stiga XTR Series Table Tennis Table
This outdoor ping pong table is the perfect addition to any outside space. It is durable and hard-wearing and conforms to professional standards so you can have a great game without any random scratches or blemishes from causing your ball to fly off at odd angles.
The table comes with a quick-play design that allows you to take the table from a storage position to one that is ready to play. The table is 95% prebuilt for you, and when you get it out of the box, it will be simple to get playing your favorite game with ease. The table has been specifically designed for any weather condition, keeping you playing even when the weather has been bad.
Storage with this table is also super easy. Effortlessly folding the table into a compact storage position takes mere moments with self-opening legs.
Stiga XTR Series Table Tennis Table Highlights:
Folding legs for great storage solutions on any patio area.
Comes prebuilt and can be ready to play on within minutes.
Durable materials for better outdoor protection.
Sleek and aesthetically pleasing design.
JOOLA Regulation Table Tennis Conversion Top
Not every table needs to have legs to be played on. This is a regulation conversion table that can turn any other surface into a regulation table tennis table within seconds. Great for those who have limited storage space and want something that they can use with other existing furniture in the outdoor setting.
This regulation-size table is a full 9 by 5 foot table and includes a sleek painted blue color with a standard 15mm surface. This allows your ball to have a consistent bounce and prevents the table from warping. Assembling the aesthetically pleasing table takes just a few minutes and the 10 EVA foam pads allow you to form a protective layer between the table and the ping pong conversion top. Therefore, nothing will be damaged.
This is a great option for those who might want to have other games in their backyard but have limited space.
JOOLA Regulation Table Tennis Conversion Top Highlights:
Regulation size table that can convert any other surface into a ping pong table.
Easy to assemble, just add to the surface you want to convert.
Can protect the surface with foam protectors.
Perfect for indoor or outdoor use.
ZENY 6ft Foldable Table Tennis Table
This is one of the greatest outdoor ping pong tables that is available for any outdoor space. The table tennis table boasts a high elastic density board with a thickness of 0.43 inches which provides a bounce that is consistent across the entire table. The table is also foldable and saves space when it is not in use.
The lightweight table is easy to move when you need to make space while having guests around. Or you can use it as an entertainment table. Remove the nets and the table can be turned into a poker game area, board game area, using for setting out meals and more.
The table also features some nice protection. The four corners have anti-collisions corners. This prevents collisions, scratching, and injury to you and the table. The table is also coated with a unique scratch-resistant paint that is bright and colorful.
The table is regulation height. Allowing you to play at the correct size. However, the table is 2/3rds of the regulation size.
ZENY 6ft Foldable Table Tennis Table Highlights:
Regulation height table tennis table that is 2/3rds the length and width of a professional table.
Can be used for multiple functions to help turn an outdoor space into an entertainment area.
Fantastic anti-damage technology is employed within the design.
Easy storage options.
Final Word: The 6 Best Outdoor Ping Pong Table
If you're looking for an outdoor ping pong table for sale, you'll find that there are lots available online. The ones above are some of the best options that you can have in your home or office. Choose which one is best suited for your needs and get it to your home/office to improve your game and have some fun. Which table will you choose?